Croak by Gina Damico
Reviewed 31 March 2015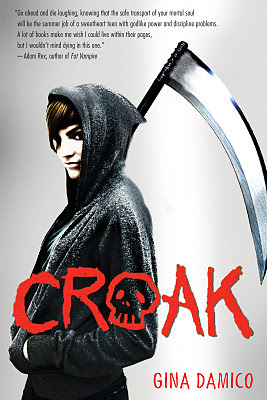 Rating
5 / 5 Stars!!
Goodreads Description
Fed up with her wild behavior, sixteen-year-old Lex's parents ship her off to upstate New York to live with her Uncle Mort for the summer, hoping that a few months of dirty farm work will whip her back into shape.
But Uncle Mort's true occupation is much dirtier than shoveling manure. He's a Grim Reaper. And he's going to teach Lex the family business.
She quickly assimilates into the peculiar world of Croak, a town populated by reapers who deliver souls from this life to the next. But Lex can't stop her desire for justice – or is it vengeance? – whenever she encounters a murder victim, craving to stop the attackers before they can strike again.
Will she ditch Croak and go rogue with her reaper skills?
My Review

This book was absolutely fantastic. I was not expecting to tear up at the end, but go figure I did. The ending was flawless and painful but oh so perfect, and I am so lucky to have met Gina Damico because guys, this woman can write a stellar book.
The thing is, it's a story of fiction. I think that's easy to tell. But Damico didn't write it like fiction. She included the awkward moments and the depression of goodbyes and the horror involved with death. She made the characters so relatable and made the town of Croak so realistic even with all the ridiculous corny names and places.
This book floored me and I would 150% recommend it to nearly anyone looking for a new book to read.
So excited to get my hands on the rest of the trilogy!
Recommended?
I hope this is obvious.