Eleanor & Park by Rainbow Rowell
Reviewed 1 April 2015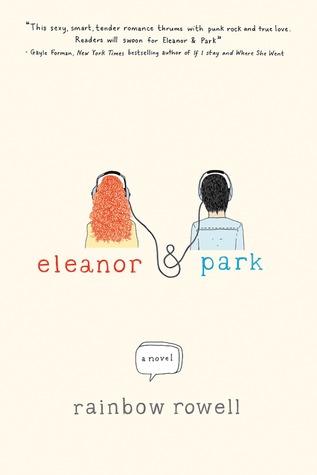 Rating
5 / 5 Stars!!
Goodreads Description
Two misfits.
One extraordinary love.
Eleanor… Red hair, wrong clothes. Standing behind him until he turns his head. Lying beside him until he wakes up. Making everyone else seem drabber and flatter and never good enough…Eleanor.
Park… He knows she'll love a song before he plays it for her. He laughs at her jokes before she ever gets to the punch line. There's a place on his chest, just below his throat, that makes her want to keep promises…Park.
Set over the course of one school year, this is the story of two star-crossed sixteen-year-olds—smart enough to know that first love almost never lasts, but brave and desperate enough to try.
My Review
I loved this. I swear I did. It was absolutely fantastic and I am in love with the two characters and how unique they were while still being completely relatable. It described how perfectly bitter and awful it is to lose someone you love so incredibly much.
Both Eleanor and Park were so different, that it was so perfect that they worked together.  I loved how the entire book detailed the course of their relationship growth, which went from such a hateful, embarrassing relationship to such raw love.  It was absolutely fantastic and so realistic, it was almost strange how real their relationship could have been.
I did think, at times, there were scenes that didn't fit – things that magically appeared too quick or too much extended dialogue on something that didn't need to be explained. How did Tina's character development progress so rapidly that suddenly she wanted to help Eleanor, and convinced Steve to help? Other than being a relatable situation with her own stepfather, she must have had a TON to drink. Regardless, their story was absolutely fantastic. And I adore them.
Thanks for the sobbing at 1am. Definitely needed that.
Recommended?
 Absolutely recommend!  This was a beautiful love story and though the ending was painful and full of tears (at least on my end), I absolutely recommend it.