Quidditch Through the Ages by Kenniworthy Whisp
Reviewed 6 April 2015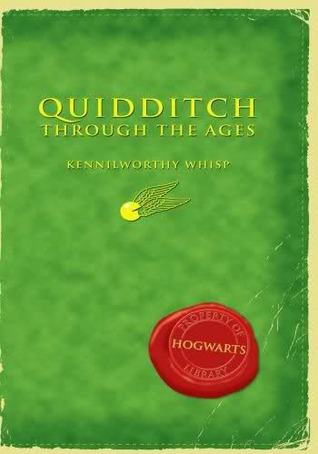 Rating
4 / 5 Stars
Goodreads Description
Did you know that: there are 700 ways of committing a foul in Quidditch? The game first began to evolve on Queerditch Marsh – What Bumphing is?
That Puddlemere United is oldest team in the Britain and Ireland league (founded 1163). All this information and much more could be yours once you have read this book: this is all you could ever need to know about the history, the rules – and the breaking of the rules – of the noble wizarding sport of Quidditch.
My Review
Definitely an insightful and helpful guide to the game of Quidditch for young witches and wizards all over the globe. I love that it broke down not only the origin of the game, but also the positions origin, the teams, other popular broomstick games, and more. This was very informative and gave insight to another aspect of the Wizarding World that wasn't as deeply touched upon in the original series. With all that said, Go Finchburg Finches!!
Recommended?
Between this and Fantastic Beasts and Where to Find Them, I'd definitely have to recommend FBaWtFT more than this one.  This is still great and full of hidden details for the typical Potterhead but the other book was much more interesting (at least to me).