Breakfast Served Anytime by Sarah Combs
Reviewed 14 April 2015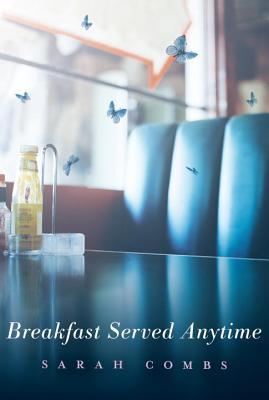 Rating
5/5 Stars!!
Goodreads Description
A coming-of-age debut evokes the bittersweet joys and pangs of finding independence in one unforgettable summer away at "geek camp."
When Gloria sets out to spend the summer before her senior year at a camp for gifted and talented students, she doesn't know quite what to expect. Fresh from the heartache of losing her grandmother and missing her best friend, Gloria resolves to make the best of her new circumstances. But some things are proving to be more challenging than she expected. Like the series of mysterious clues left by a certain Professor X before he even shows up to teach his class, Secrets of the Written Word. Or the very sweet, but very conservative, roommate whose coal-industry family champions mountaintop removal. Not to mention the obnoxious Mason, who dresses like the Mad Hatter and immediately gets on Gloria's nerves — but somehow won't escape her thoughts.
Beautifully told by debut author Sarah Combs, this honest and touching story of growing up is imbued with the serene atmosphere of Kentucky's natural landscape.
My Review
Honest to god, one of the absolute best books I've ever read. I marked over 100 brilliant quotes and there has only ever been three books in my lifetime where it was necessary to mark quotes.
I absolutely 150% recommend this and suggest that you randomly pick this up at your local book store ASAP because this book was absolutely beautiful and I fell in love with all of it more than I thought I was going to when I started reading it 12 hours ago.
There aren't many books that I commit to reading in a single day but you will read this book easily that fast.
So beyond what I dreamed it would be and I cannot even form a sentence to explain what it is actually about other than: everything you need to hear right now. I will put money on it that this book will just help you through whatever you're going through regardless of what it is because this book by far just encompasses every aspect of life without including too much of anything.
It's a perfect balance of real life and fiction and relatable characters and love and friendship and fighting and family and is honestly just beyond words.
Read it. Period.
Recommended?
Yes.  Absolutely. Please. Everyone, at some point in their life, should read this book.