Me and Earl and the Dying Girl by Jesse Andrews
Reviewed 15 April 2015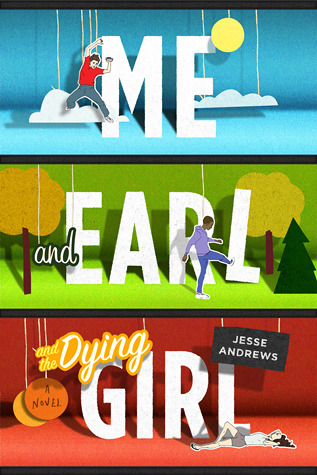 Rating
1 / 5 stars
Goodreads Description
Greg Gaines is the last master of high school espionage, able to disappear at will into any social environment. He has only one friend, Earl, and together they spend their time making movies, their own incomprehensible versions of Coppola and Herzog cult classics.
Until Greg's mother forces him to rekindle his childhood friendship with Rachel.
Rachel has been diagnosed with leukemia—-cue extreme adolescent awkwardness—-but a parental mandate has been issued and must be obeyed. When Rachel stops treatment, Greg and Earl decide the thing to do is to make a film for her, which turns into the Worst Film Ever Made and becomes a turning point in each of their lives.
And all at once Greg must abandon invisibility and stand in the spotlight.
My Review
I just spent a good portion of my reading life reading 300 pages that led up to….nothing.  In life, most of the time there is no life changed revelation or moment of realization that life is short and that you should change and do something to make your life more meaningful.  And I understand this book is trying to portray that fact.  Sometimes death doesn't change who we are and the way we look at things.
But I promised I'd be honest in my reviews.  Never brutally rude, because I understand how much effort is put into writing a book.  But I do need to be honest.
I didn't like this book.  I didn't care for Greg.  I've been a high school student that wanted nothing more than to blend in and attract as little attention as possible, but Greg takes this idea to a whole new level.  A lot of reviews I've read have people saying how funny they thought this book was.  I really didn't find much humor woven in.  I cracked a few smiles but nothing that made me burst out laughing.
I liked Earl and Rachel.  I thought they were realistic, and relatable on a lot of levels for a lot of people.  Greg though….I've never met anyone quite like him.  And he just seemed so removed from the world and obsessed with not drawing attention to himself, I couldn't help but question what kind of character he was.
I was waiting for a switch.  Something meaningful about this book I could grab onto and say "Yea, most of the book was a waste, but at least this character learned something about himself or grew as a person or something."  I'm really disappointed to say that this book had none of those things (at least from my perspective.) Greg didn't learn anything.  He didn't grow as a person, and he was still the same immature, slightly off senior he was at the end of the book as he was when he started writing it at the beginning of senior year.
I guess I just like things that have a point.  This had no point.  But I guess that was the point.
Recommended?
Please don't waste your valuable reading time as I did.
Though the trailer for the movie looks good.  They may have changed it so the movie is better than the book?  Fingers crossed.