Paper Towns by John Green
Reviewed 22 June 2015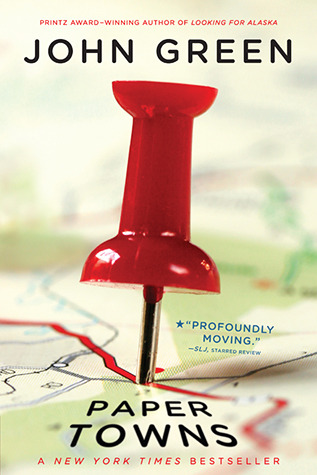 Rating
4/5 Stars
Goodreads Description

Who is the real Margo?
Quentin Jacobsen has spent a lifetime loving the magnificently adventurous Margo Roth Spiegelman from afar. So when she cracks open a window and climbs into his life—dressed like a ninja and summoning him for an ingenious campaign of revenge—he follows. After their all-nighter ends, and a new day breaks, Q arrives at school to discover that Margo, always an enigma, has now become a mystery. But Q soon learns that there are clues—and they're for him. Urged down a disconnected path, the closer he gets, the less Q sees the girl he thought he knew..
My Review
Again, John Green gets that beautiful writing can win over readers. This was the first John Green book where tears weren't shed, but it was absolutely beautiful anyway.
I know that the movie is coming out and knew I had to finish this prior to seeing it. I absolutely loved it. After reading Looking for Alaska and TFiOS, I know that this isn't my favorite John Green book, but that doesn't take away from how wonderful it is.
I loved the continued theme throughout and the growth all our characters go through. I loved the ending and how it was all tied up nicely with a bow. It was a gorgeous read and had I had the time, it would have been a book I'd finish in one sitting.
So glad to finally have read it and be able to see the movie version – beauty like this is hard to find in books but JG executes it flawlessly yet again.
Recommended?
Definitely recommend you grab this one!