Rebel Belle by Rachel Hawkins
Reviewed 14 May 2015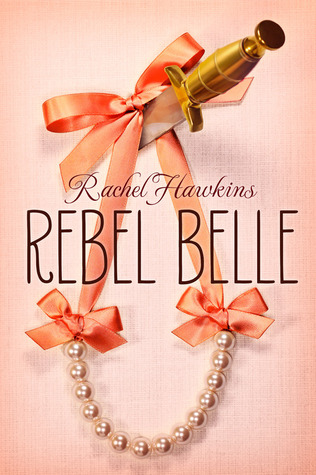 Rating
4 / 5 Stars
Goodreads Description
Harper Price, peerless Southern belle, was born ready for a Homecoming tiara. But after a strange run-in at the dance imbues her with incredible abilities, Harper's destiny takes a turn for the seriously weird. She becomes a Paladin, one of an ancient line of guardians with agility, super strength and lethal fighting instincts.
Just when life can't get any more disastrously crazy, Harper finds out who she's charged to protect: David Stark, school reporter, subject of a mysterious prophecy and possibly Harper's least favorite person. But things get complicated when Harper starts falling for him—and discovers that David's own fate could very well be to destroy Earth.
With snappy banter, cotillion dresses, non-stop action and a touch of magic, this new young adult series from bestseller Rachel Hawkins is going to make y'all beg for more.
My Review
I am hopeless when it comes to not judging books by their cover. I bought this book, not even reading what the description was and started. A few chapters in, I actually turned it over and read the description off the back. Wait, what did I pick up to read?!
I was absolutely not expecting the plot line based on the cover. Greek history and ancient oracles and superpowers….all in a book with a pearl necklace and knife on the cover. I was shocked. I didn't even get that vibe from the title of the book! Pretty surprising but I can't complain!
Overall, I adored Harper. I adored Harper and Ryan. I adored Harper and David. Basically, Harper makes me like people. She's a pretty phenomenal character who is a strong, independent woman and who does all the can to achieve as much as she can. Just….she's inspiring while still having superpowers.
The relationships in the book were realistic. They grew on me and I really appreciated the growth of each one. Including her friendships – even if there was a teeny amount of lying, it was necessary.
There were times while reading this that I giggled and times where I was sitting here dumbfounded repeating, "Wait what….no. wait….what?" This book had surprises and humor and butterflies and yay. It was lovely and I'm so glad I picked it up! It was a quick read and although I really wanted to give it 5 stars, it just wasn't an all time favorite for me. But still a fantastic book that I would happily recommend to people.
Recommended?
Yes!  Not my favorite genre/story line but I still really enjoyed this!