Skinny Me by Charlene Carr
Reviewed 19 April 2015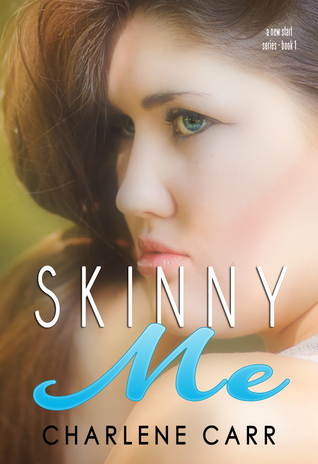 Rating
3.5 / 5 Stars
Goodreads Description
Jennifer Carpenter dreams of being a different person – A person with confidence, a person with beauty, a person who weighs a heck of a lot less.
At twenty-seven, her world falls apart. She's out of work, her mother has died, her estranged brother is in a coma and, despite good qualifications, each and every job interview ends in another rejection. Marked by the teasing, taunts, and fat jokes that defined her childhood, Jennifer blames her current lack of success on her ever-growing waist band.
In need of a change, Jennifer puts her dream of 'skinny' above all else. Obsessed with this mission, she devotes her life to becoming the ideal version of herself even if it means becoming alienated from the only people who love her. Determined to lose the weight she believes is ruining her life, Jennifer finds herself in danger of losing so much more
My Review.
I was contacted by Charlene Carr and offered a free e-copy of this book in exchange for an honest review.
As I was reading Skinny Me, I couldn't help but develop a bad taste for Jennifer. I've had family that have lost hundreds of pounds and I understood that there is more to getting healthy than the physical side. It's an emotional battle. And yes, by the end, Jennifer redeems some of her more unlikeable qualities from earlier in the book. But the way she treated people, especially her own cousin who was nothing but kind to her for the entirety of her life? That really bothered me.
Even when she was trying to be happy with herself she was still jealous of what others had. It seemed very petty and childish and as though she wouldn't be able to flip a switch with those sorts of character traits holding her back.
She wasn't the worst character though. And I enjoyed all the other characters and their diversity. Part of me thinks Jenn was written as a character we were meant to "love to hate." Kudos to Carr for achieving that, as it's not an easy feat.
The plot was sound and wrapped up nicely, though rather quickly.
Overall a good, quick read. Just be prepared to not love Jenn. She'll make you roll your eyes and appreciate what you have for how little she appreciates everything she's been granted. But she definitely portrays how extreme the mental aspect of losing weight can be.
Recommended?
I don't know that I would ever go out of my way to recommend this book to someone.  But it was a nice change of pace for me and gave me a different perspective on a subject I don't know much about.