The Elite by Kiera Cass (The Selection series)
Reviewed 25 May 2015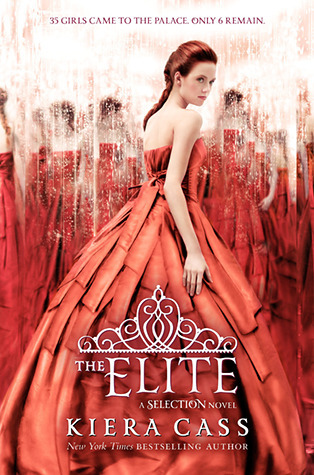 Rating
4 / 5 Stars
Goodreads Description
The Selection began with thirty-five girls.
Now with the group narrowed down to the six Elite, the competition to win Prince Maxon's heart is fiercer than ever—and America is still struggling to decide where her heart truly lies. Is it with Maxon, who could make her life a fairy tale? Or with her first love, Aspen?
America is desperate for more time. But the rest of the Elite know exactly what they want—and America's chance to choose is about to slip away.
My Review
Alright well, it definitely could have been worse and Kiera Cass certainly made up for it by the ending. But second book syndrome got to America in the worst way possible.
Maxon was absolutely flawless as usual. His appearances in this segment of The Selection were so great, I fell so much more in love with him.
What I didn't love was America. It's almost like her rational thinking in this book went right out the window. After witnessing some awful events, she and Aspen continued if not escalated their hidden relationship and oh my god. Girl, you're not stupid. Use your head and think about what you're doing for a second.
I know he was her first love but she uses him as a backup plan. It's obvious. And I'm okay with that because Maxon for the win, but I don't think America realizes she's doing it to herself. She's mistaking consistency and comfort for love and it drives me nuts.
Overall though the plot was just as solid as the first book and I'm so excited to start The One soon and finish up this round of The Selection before heading off to read The Heir.
Recommended?
Absolutely – just tolerate America's stupidity.