The Heir by Kiera Cass
Reviewed 27 May 2015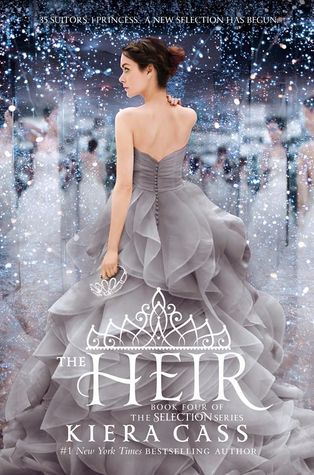 Rating
4.5 / 5 Stars
Goodreads Description
Princess Eadlyn has grown up hearing endless stories about how her mother and father met. Twenty years ago, America Singer entered the Selection and won the heart of Prince Maxon—and they lived happily ever after. Eadlyn has always found their fairy-tale story romantic, but she has no interest in trying to repeat it. If it were up to her, she'd put off marriage for as long as possible.
But a princess's life is never entirely her own, and Eadlyn can't escape her very own Selection—no matter how fervently she protests.
Eadlyn doesn't expect her story to end in romance. But as the competition begins, one entry may just capture Eadlyn's heart, showing her all the possibilities that lie in front of her . . . and proving that finding her own happily ever after isn't as impossible as she's always thought.
My Review
I'm giving this one a 4.5 out of 5. And I've given the other three books solid 4s. Oh my god. After hearing so many awful things I was not expecting what I just read.
Eadlyn is no America. She is no Maxon and she is no Celeste or Marlee or Kriss. She is simply Eadlyn and she owned this book. There were moments where yes, she seemed to be ungrateful if not a bit demanding and honestly she was selfish and pushy.
But throughout the story she was consistent. Until she wasn't. And I am refusing to ruin it for you, my dear reader, but I've never been moved to tears by any of the Selection books and the ending of this one had me choked up.
Eadlyn grew so much as a Princess soon to be Queen in the 340 pages of this book. And she didn't have to, but she learned that she was missing out if she didn't.
I am very grateful to have read this and I really really enjoyed it. I cannot wait for the final (or supposed to be final) book of The Selection series.  I need to know what happens!  Such a good cliffhanger.
Recommended?
Yes.  Absolutely.  I liked this one more than I liked The Elite and The One honestly.  Get through the parts where Eadlyn is a bitch.  Trust me.  It's worth it.