The One by Kiera Cass (The Selection series)
Reviewed 25 May 2015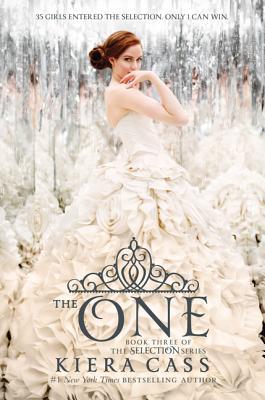 Rating
4 / 5 Stars
Goodreads Description
The time has come for one winner to be crowned.
When she was chosen to compete in the Selection, America never dreamed she would find herself anywhere close to the crown—or to Prince Maxon's heart. But as the end of the competition approaches, and the threats outside the palace walls grow more vicious, America realizes just how much she stands to lose—and how hard she'll have to fight for the future she wants.
My Review
Ahh and thus The Selection series comes to an end. I know The Heir is technically apart of the series but it's a different generation – so I'm not counting it.
I was so happy with the way this series ended. Definitely the perfect ending to a series I sped through. It was so good!
The reason this earned 4 Stars from me wasn't because of any character flaws or plot issues or anything related to the writing of the book. What bothered me was how fast it all went.
I understand a ton happened in the last few chapters. I won't say what but if you're reading this, you know what I mean. A ton happened….and then it was over. There was no room for grief or happiness or acceptance. There was just the end. And that bothered me. I wanted America to really grasp what she had faced the last few chapters and come to terms with it, and I felt like it was very quick to end.
I absolutely loved the story, please don't get me wrong in that aspect. I just felt like she didn't have enough time to truly grasp everything she was dealt at such a rapid pace.
Overall I absolutely LOVED this series and couldn't have asked for more….except maybe a few chapters to slow down the happily ever after.
Recommended?
Yes, yes, and yes.  This series was marvelous.  I just felt like there were things that could have been tweaked/altered a bit to keep some more consistency but the overall plot was fantastic and I loved it.