The Selection by Kiera Cass
Reviewed 9 May 2015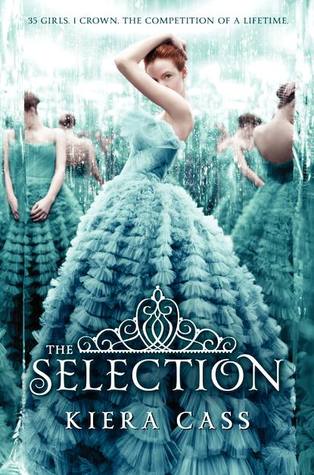 Rating
4.5 / 5 Stars
Goodreads Description
For thirty-five girls, the Selection is the chance of a lifetime. The opportunity to escape the life laid out for them since birth. To be swept up in a world of glittering gowns and priceless jewels. To live in a palace and compete for the heart of gorgeous Prince Maxon.
But for America Singer, being Selected is a nightmare. It means turning her back on her secret love with Aspen, who is a caste below her. Leaving her home to enter a fierce competition for a crown she doesn't want. Living in a palace that is constantly threatened by violent rebel attacks.
Then America meets Prince Maxon. Gradually, she starts to question all the plans she's made for herself–and realizes that the life she's always dreamed of may not compare to a future she never imagined.
My Review
I absolutely loved this book. I wasn't sure what I was expecting and I'd heard great things about this series, but I can proudly say I'm excited to purchase the rest of the series.
The one thing that kind of bugged me (and I'm sure you could relate nearly every book/movie/tv show to something else) but all I pictured while reading was a glorified version of The Bachelor, which I don't agree with. So trying to separate myself from that and put that sort of theme to a fictional event, knowing it wasn't happening, was something I struggled with.
I absolutely loved the characters. I found America to be relatable and true to herself the entire time. She wasn't ever trying to be something she wasn't and it was just time that allowed her to grow into what her feelings really were underneath.
I slightly can't stand Aspen though (even though I LOVE his name). He was kind of a jerk. You led this girl on for 2 years and all of a sudden you want to break things off? And I'm absolutely suspicious of him, especially from the first few chapters hearing about him 'suddenly' being happier and saving up for a proposal. Ugh, no. There's something fishy with him. Even if he loves America, I feel like he loves someone else too.
Maxon I kind of adore. He sounds like cute nerdy and confused, but still genuine. Which is something I strongly adore in a character. He has his flaws just as much as his strengths. Perk!
I am so glad I finially got around to reading the first book in this series, and I look forward to reading the rest of it!
Recommended?
Absolutely, this is a fantastic book!  Yes!!!