The Start of Me and You by Emery Lord
Reviewed 7 May 2015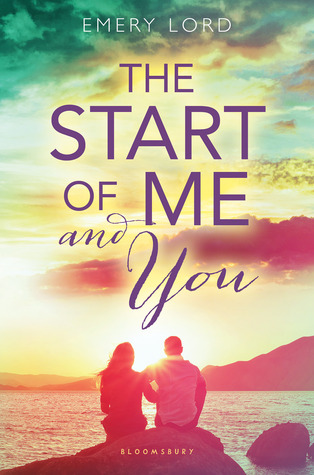 Rating
4.5 / 5 Stars
Goodreads Description
Brimming with heartfelt relationships and authentic high-school dynamicsThe Start of Me and You proves that it's never too late for second chances.
It's been a year since it happened—when Paige Hancock's first boyfriend died in an accident. After shutting out the world for two years, Paige is finally ready for a second chance at high school . . . and she has a plan. First: Get her old crush, Ryan Chase, to date her—the perfect way to convince everyone she's back to normal. Next: Join a club—simple, it's high school after all. But when Ryan's sweet, nerdy cousin, Max, moves to town and recruits Paige for the Quiz Bowl team (of all things!) her perfect plan is thrown for a serious loop. Will Paige be able to face her fears and finally open herself up to the life she was meant to live?
My Review
Oh my goshhhhh. I can't even form words for how beautiful this book is. I'm so glad that I kept reading even though I was iffy about it at the start of reading.
Where to start. Hmm, well I loved all the characters. Paige, Kayleigh, Tessa and Morgan's friendship was so beautiful and realistic and I can completely see 4 friends in high school having such a gorgeous relationship. And then came Ryan and Max and suddenly I fell in love with them so much.
These characters suddenly came to represent people from my own life that I cherish so much. And I'm almost positive that's why I got so attached to each of them.
The plot at the beginning was slow. It really took me a while to get into it and I would have been so sad if I had given up on it. Because the longer I read it, the faster I was turning pages and the more in love with it I became.
As Hazel Grace Lancaster says, "I fell in love the way you fall asleep; slowly and then all at once."
I didn't sob at the end but I got so choked up and was so thrilled with everything wrapped up so neatly with a bow. Like most people who read this book, I predicted the ending long before I got there, but I was so excited that it ended the way I had hoped.
It wasn't so much how it ended. It was how they got to the ending. And I am so so pleased with how they got there. Absolutely loved this book.
I received The Start of Me and You by Emery Lord in the April 2015 Uppercase subscription box.
Recommended?
Whole-heartedly, yes.  This was an adorable read!