Aristotle and Dante Discover the Secrets of the Universe by Benjamin Alire Sáenz
Reviewed 11 August 2015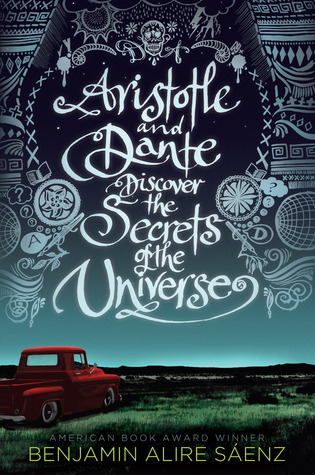 Rating
5 / 5 Stars!
Goodreads Description
Aristotle is an angry teen with a brother in prison. Dante is a know-it-all who has an unusual way of looking at the world. When the two meet at the swimming pool, they seem to have nothing in common.

But as the loners start spending time together, they discover that they share a special friendship—the kind that changes lives and lasts a lifetime. And it is through this friendship that Ari and Dante will learn the most important truths about themselves and the kind of people they want to be.
My Review
What is there to say other than rave about how absolutely beautiful this book was?
I cannot believe this book sat on my shelf unread for so long. I send a big thank you to Taylor for recommending it to me and threatening to end our friendship if I didn't put it on the top of my tbr pile.
Where to really start with this review? Everything in these pages is relatable. There are so many battles each of the characters are going through on their own and when they are all revealed, the reader suddenly understands that character so much more.
Dante and Aristotle are two halves of a whole. They just fit together. And this story works so well because they work so wonderfully together. I wouldn't change a single thing about them and I love their flaws. It makes them human. And we like reading about things we can relate to.
I was absolutely floored by the way it ended. It was perfect and I sobbed and that's exactly how I want to feel when a book ends.
I'm so glad that I FINALLY read this book and understand what all the hype was about. It was a perfect read.
Recommended?
150%, absolutely.  Please read this book.