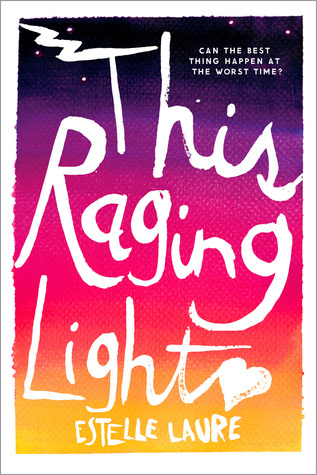 Rating
5 / 5 Star!
Goodreads Description
Can the best thing happen at the worst time?

Her dad went crazy. Her mom left town. She has bills to pay and a little sister to look after. Now is not the time for level-headed seventeen-year-old Lucille to fall in love. But love—messy, inconvenient love—is what she's about to experience when she falls for Digby Jones, her best friend's brother. With blazing longing that builds to a fever pitch, Estelle Laure's soulful debut will keep readers hooked and hoping until the very last page.
My Review
This was an amazing read. As my first read of 2016, I genuinely could not ask for better. It was everything that I could dream of in a book and the last sentence just took my breath away and ahh. It was everything.
The main characters Lucille and Wren were flawless. I felt for them and wanted the world for them and they developed and grew so much throughout the book.
Laure is phenomenal at creating character spirals, those moments when the character doesn't know what they're doing and they're having a meltdown and you feel in along with them.
This was one of those books I had to take out my stick page tabs and mark beautiful quotes every paragraph because there were so many lines I felt my heartstrings being pulled at.
The writing was gorgeous, the plot was fantastic, I fell in love with the characters and I just needed to read a book like this.
I am so grateful to HMH Kids for sending me an ARC of this gorgeous novel. What a wonderful way to kick off 2016!
Recommended?
HIGHLY.