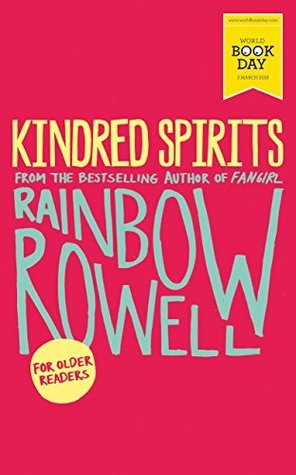 Rating
5 / 5 Stars
Goodreads Description
'Everybody likes everything these days. The whole world is a nerd.'
'Are you mad because other people like Star Wars? Are you mad because people like me like Star Wars?'
'Maybe.'

If you broke Elena's heart, Star Wars would spill out. So when she decides to queue outside her local cinema to see the new movie, she's expecting a celebration with crowds of people who love Han, Luke and Leia just as much as she does.
What she's not expecting is to be last in a line of only three people; to have to pee into a collectible Star Wars soda cup behind a dumpster or to meet that unlikely someone who just might truly understand the way she feels.
Kindred Spirits is an engaging short story by Rainbow Rowell, author of the bestselling Eleanor & Park, Fangirl and Carry On, and is part of a handful of selected short reads specially produced for World Book Day.
My Review
I wasn't sure what to expect with this short story, but when I saw that it was by Rainbow Rowell, I knew I had to get my hands on it! I was so grateful I picked up and read it – it was absolutely ADORABLE.
I loved the character development we saw in Elena specifically but also Greg, Troy and (funnily enough) Elena's mom. I was so taken with this story, especially since it allowed a popular girl to show off her inner fangirl.
I absolutely loved this story and am so glad that I grabbed it!
"We're all apart of the line."
Recommended?
Definitely recommended for a quick, half hour read – ESPECIALLY if you have any fandom love in your body. It doesn't even have to be for Star Wars – this book just screams to be read by anyone who adores a fandom.