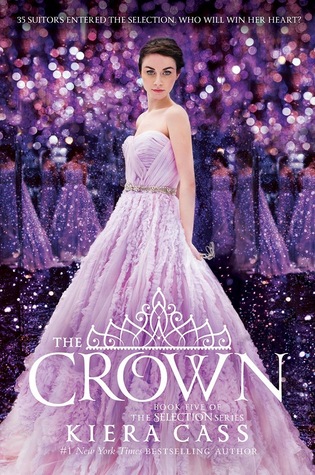 Rating
5 / 5 Stars
Goodreads Description
When Eadlyn became the first princess of Illéa to hold her own Selection, she didn't think she would fall in love with any of her thirty-five suitors. She spent the first few weeks of the competition counting down the days until she could send them all home. But as events at the palace force Eadlyn even further into the spotlight, she realizes that she might not be content remaining alone.

Eadlyn still isn't sure she'll find the fairytale ending her parents did twenty years ago. But sometimes the heart has a way of surprising you…and soon Eadlyn must make a choice that feels more impossible—and more important—than she ever imagined.
My Review
I was so happy with the ending of this series – beyond happy. I wasn't one of the people who was disappointed in The Heir however I reread it prior to reading The Crown so I could get the names straight and everything.
Once I reread The Heir I could see a bit more clearly why people were disappointed with it, however I still loved it just as much as I did the first time around. The Crown was just so different. It really showed Eadlyn growing up and accepting the cards she had been dealt. She learned to put herself second and to take care of those people and situations around her.
I was so grateful to have stuck with this series and I absolutely believe that it ended perfectly. I am so glad for all the characters and their final moments in print. One of my favorite series, absolutely!
Recommended?
Absolutely!  Such a fantastic ending!