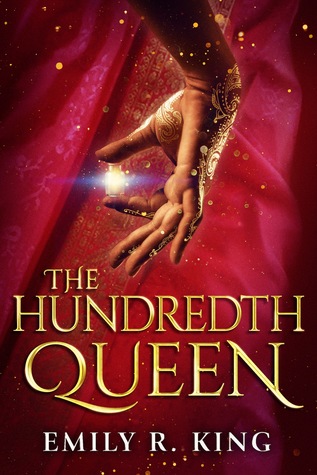 Rating
3 / 5 Stars
Goodreads Description
He wanted a warrior queen. He got a revolutionary.
As an orphan ward of the Sisterhood, eighteen-year-old Kalinda is destined for nothing more than a life of seclusion and prayer. Plagued by fevers, she's an unlikely candidate for even a servant's position, let alone a courtesan or wife. Her sole dream is to continue living in peace in the Sisterhood's mountain temple.

But a visit from the tyrant Rajah Tarek disrupts Kalinda's life. Within hours, she is ripped from the comfort of her home, set on a desert trek, and ordered to fight for her place among the rajah's ninety-nine wives and numerous courtesans. Her only solace comes in the company of her guard, the stoic but kind Captain Deven Naik.
Faced with the danger of a tournament to the death—and her growing affection for Deven—Kalinda has only one hope for escape, and it lies in an arcane, forbidden power buried within her.
My Review
Though this book was a really interesting read, it wasn't one I'd be looking to read again.
Before I dive into the content of the story, I need to comment on the cover of this title, which is ABSOLUTELY stunning.  I have seen the covers for the two final books of the series and I am blown away by the cover art and may end of grabbing them just because of that!
However, I was really hopeful based on the synopsis of this book, which featured plenty of information regarding the bad-ass female this book is supposed to be about.  Unfortunately, I was definitely disappointed.
Kalinda was a great main character and I really loved her.  I thought it was so interesting to see what happened to her through her journey as she left the temple and began her journey to living and becoming the 100th wife of the Rajah.  I was disappointed when the story took a turn and instead of focusing on how bad-ass and persistent Kalinda was with her goals, it turned instead to the romantic aspect as she began to fall in love.  It wasn't just about dying for women's rights anymore.  It became about dying for love which wasn't what I was expecting based on the synopsis.
I was underwhelmed by this book and though I really enjoyed the plot overall, I felt the writing could definitely use some work.  It was choppy, and often times I severely questioned whether this was actually a title written for YA readers or if it should be adjusted to be an adult genre piece.
I'd probably read something else and just skip this one if I could go back in time.
Recommended?
Meh.  Maybe if you have literally nothing else to read.